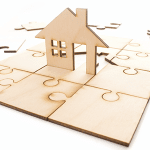 When you're a homebuyer, whether its your first time or moving up or over, the process can be an overwhelming whirlwind of information and activity. But if you stay grounded and obtain as much knowledge as possible, you'll feel in control and equipped to make the best decisions for your finances and your lifestyle. After deciding that owning a home is better than renting or you've outgrown your current residence, you need to start searching for homes that meet your needs (square footage, location, amenities, etc). And you can begin a search right here on our website!
It's helpful to separate your needs from your wants as you're house hunting because you're almost certain to find yourself compromising, especially in todays market. No house is perfect, unless you have an unlimited budget or you're custom-building a home. Identifying what you can live without will help you find the home that best fits your needs.
Of course, it's not as easy as searching for your ideal house and buying it. Your available budget will be determined by multiple factors. Your credit score will dictate the interest rate you will qualify for on your mortgage and that rate will determine how much you're actually paying for your house over the life of your mortgage.
Your credit score dictates the interest rate you will pay for your mortgage, and that rate will determine how much you're actually paying for your house over the term of your mortgage. Determining how much home you can afford to buy while still being able to live and cover other expenses is a vital step, too. When you're ready for a mortgage, fixed mortgages and Federal Housing Authority and VA Loans are ideal financing instruments for first-time buyers.
What are your goals?
We want to know what you are trying to achieve financially and through homeownership. You will discuss these points with your Union Home Plus™ U-CAN Preferred Partner and they'll collaborate to find the mortgage that best fits your needs. We offer many programs that provide funding so you can purchase a home or refinance an existing mortgage.
Obtain basic documentation
After you've discussed all the options, they will let you know exactly what documentation is needed to proceed. These are records such as paystubs, tax returns and your credit report.
Appraise the home and more documentation
If an appraisal is necessary, we will order one from a state-certified appraiser. We will use the assessment of your property to help underwrite your file. Your loan is then sent to our Processing Department where we will gather additional documentation from third parties, such as your insurance agent and employer, to verify your information in the loan file. Once verified, the processor will send your file to one of our underwriters who will ensure your file is complete and add any documents or verify information, as necessary.
Set up a closing
After the underwriter approves the loan, we will schedule a closing during which you will sign all final paperwork to complete the loan transaction. The closing will be scheduled at a time and place convenient for you.
Many other lenders use different loan processes. Union Home Plus™ U-CAN Preferred Partners have decades of experience that have helped refine our process to ensure an excellent and smooth experience. We are eager to help you discover Your Way Home™